Chi tiết sản phẩm
Premier Scalability
All the SFP+ and SFP ports in the RG-S2910XS-E series are backwards compatible with lower level modules. The PoE models complying with 802.3af and 802.3at standards offer dual modular power supplies, supporting PoE+ on all the downlink ports. With the diverse quantities of expansion slots, the RG-S2910XS-E series is scalable to various Gigabit fiber and copper port combinations for unparalleled expansion flexibility.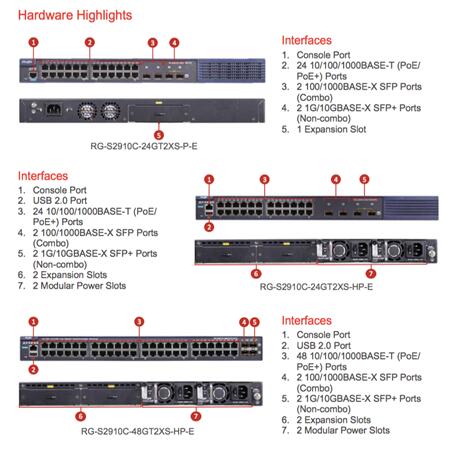 Comprehensive Protection Policies
ARP virus and attacks are common network threats with significant negative impacts. The RG-S2910XS-E series supports multiple anti-ARP spoofing modes. Whether users automatically retrieve address via the DHCP server or use a fixed IP address, the switches can still record the true user IP and MAC addresses. Upon receiving ARP packets from the host, the packets will be compared against the IP and MAC addresses in the record. Only verified ARP packets will be forwarded while those malicious ones will be discarded. The RG-S2910XS-E series fully protects network users from ARP spoofing intrusion.
The RG-S2910XS-E switches proactively defend against different kinds of DDOS attacks. Open networks are susceptible to viruses. Network devices and servers are also vulnerable under attacks by malicious network users. All these will affect normal network operation. Commonly found problems are: ARP flooding casing response failure in gateway; ICMP flooding overloading the network CPU; and DHCP flooding attacks resulting in deficiency in DHCP server address and failure to obtain user IP address for normal network access.
The RG-S2910XS-E switch series offers industry-leading CPU Protection Policy (CPP). The CPP technology diverges traffic to CPU into different packet flows and organizes them based on priority. Bandwidth speed control can also be implemented. The features offer full CPU protection against bandwidth taken up by rogue traffic, malicious attacks and resources consumption.
Users can also find Network Foundation Protection Policy (NFPP) readily available in the RG-S2910XS-E switches. The NFPP technology can limit the number of packets that users issue (including ARP, ICMP, DHCP packets). It can discard any packet that exceeds the limit threshold and even isolate malicious attacks for absolute network availability.
The switches also support DHCP snooping, allowing DHCP response only from the trusted ports to prevent DHCP server spoofing. Based on the DHCP protection feature, the switches can dynamically monitor ARP and check user's IP address. Packets inconsistent with the binding table will be labeled as rogue and hence discarded. The feature prevents attacks such as ARP spoofing and user source IP address spoofing.
Advanced Virtualization Technology
All the RG-S2910XS-E models support Virtual Switch Unit (VSU) technology. It enables interconnection of several physical devices and virtualizes them into one logical unit. The logical device uses one single IP address, Telnet process, command-line interface (CLI), and enables auto version checking and configuration. From the user perspective, there is only one device to be managed and yet user can visualize benefits offered by several devices. Work efficiency and user experience are hence greatly enhanced. The VSU technology also offers multiple benefits below:
●Easy management: Administrators can centrally manage all the devices at the same time. It is no longer necessary to configure and manage the switches one by one.
●Simplified typology: The VSU is regarded as one switch in the network. By connection of aggregation link and peripheral network devices, MSTP protocol is unnecessary as there is no Layer 2 loop network. All protocols operate as one switch.
●Millisecond failover: The VSU and peripheral devices connected via the aggregation link. Upon failure event of any device or link, failover to another member link requires only 50 to 200ms.
●Exceptional scalability: The network is hot swappable, any devices leaving or joining the virtualized network cause zero impact on other devices.
●Investment protection: The VSU is connected to the peripheral devices via an aggregation link, achieving link redundancy as well as load balancing. Such deployment fully utilizes all the network devices and bandwidth resources. A VSU virtualized network system can be easily constructed by using any 10GE ports and any types of cables. No extra cables and expansion cards are required. And no restriction on the type of ports or cables. The RG-S2910XS-E series offers excellent investment protection for all Ruijie clients.
Carrier-class Reliability
The 802.1D, 802.1w and 802.1s Spanning Tree Protocols guarantee fast convergence and improves fault tolerance. These also maintain stable network operation and link load balancing. The feature ensures optimal network channel usage and improves redundant link utilization.
Virtual Router Redundancy Protocol (VRRP) is also available for network stability.
Another method to guarantee smooth network operation is Rogue Location Discovery Protocol (RLDP). The technology quickly detects link interruption and fiber link unidirectionality. It also prevents loop failure caused by connecting a hub or other devices to the port.
Ethernet Ring Protection Switching (ERPS) (G.8032) implements loop blocking and link recovery on the master device. Other devices directly report link status to the master device. Without passing through other standby devices, the failover time of loop interruption and recovery is hence faster than STP. The ERSP's link failover rate can be completed within milliseconds under ideal conditions.
With STP disabled, the basic link redundancy can still be maintained via Rapid Ethernet Uplink Protection Protocol (REUP). It enables even faster millisecond failover protection than that of the STP.
Software-defined Networking (SDN)
The RG-S2910XS-E switch series fully supports OpenFlow 1.3. It can fully collaborate with Ruijie's proprietary SDN controller to form a large-scale Layer 2 framework with ease. The feature ensures a smooth upgrade to SDN network. The RG-S2910XS-E series greatly simplifies the network management and minimizes deployment costs.
Energy Efficiency
Ruijie has put unswerving research effort in solving noise and energy consumption problems of conventional switches. The new RG-S2910XS-E switch series offers a total solution for such problems, providing a more quiet work environment and resolving heavy energy use caused by the deployment of a large number of devices.
The RG-S2910XS-E switches adopt next-gen hardware architecture with an advanced energy-saving circuit design and component selection. The switches offer an overall energy deduction of 40%+ for maximized cost savings. Noise pollution level is also greatly reduced. All models in the series deploy axial flow fans supporting speed adjustment. The fans enable intelligent temperature control based on current ambient temperature. The design totally ensures stable operation, and minimizes power consumption and noise level at the same time.
Under the environment of PoE power supply, the RG-S2910XS-E switches offer auto, energy-saving and static modes to deal with various deployment challenges.
The auto-power-down mode is another feature highlight. When an interface is down for a certain period of time, the system will automatically power down that interface for extra energy efficiency. The switch series also supports an EEE energy saving function. The system will automatically turn an idle port into energy-saving mode. The system will regularly issue listening streams to the port. It will resume service upon receiving a new packet.
The RG-S2910XS-E switch series complies with RoHS standards adopted by the European Union on restricting the use of hazardous materials in the manufacture process. The series also fulfills SJ/T 11363/11364/11365 standards.
Simple and Easy Network Maintenance
The RG-S2910XS-E switch series supports varieties of features such as SNMP V1/V2/V3, RMON, Syslog, SFLOW, and logs and configuration backup via USB for routine diagnosis and maintenance. Administrators can use a wide variety of methods for easier management and such include CLI, web management, Telnet, CWMP(TR069) zero configuration and so on.